Marlborough Backpackers & Hostels
Situated at the top of the South Island, Malborough is New Zealand's largest wine growing region, thanks to its high temperatures and long sunny days. Must do things in Malborough include walking or cycling the Queen Charlotte Track along the amazing coastline scenery, taking a leisurely boat trip up the Sounds or swimming with dolphins out of Picton.
Currently 21 hostels in this area
Filter by Location: View All , Blenheim (8), Malborough Sounds (7), Picton (6)
Everything In Reach
Gateway to the South Island 1 min walk shops bars restaurants 5 min walk both Ferries walking tracks inc. Queen Charlotte track boat cruises markets wine trail tours Aquarium Museum
Beach, harbour, library, medical centre, bakery, bank, supermarket & gift shops all 1 min walk away
Working Hostel
Blenheim's Premiere Working Hostel. Our super-friendly staff are dedicated specialists at finding guests a variety of seasonal work ALL YEAR ROUND!
Seasonal work arranged all year, relaxed atmosphere, riverside location, free kayaks, wifi, bikes
Bings Motel
Bings Motel is situated near Blenheim town centre, less than 2 minutes to local shops, restaurants and café.
Arrow Backpackers
We have refurbished facilities & clean comfortable accommodation to suit all budgets. We offer long term & short term rates. For vineyard works and mussel factory works.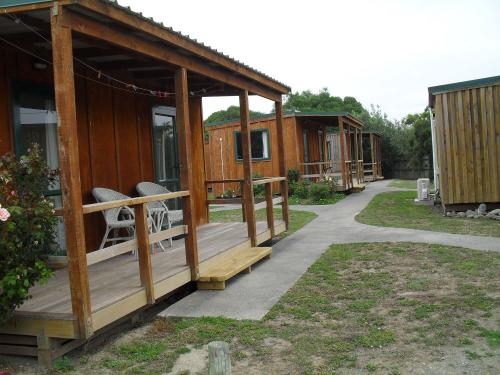 Awatere Accommodation in Seddon
Stay in our competitively priced private chalets, motor park or campground. Chalets have a rustic charm of their own - why not sit back and relax on your own veranda!
Host to some of the finest vineyards in the world, the Marlborough region greets visitors from the North Island with its long, straight valleys surrounded by lush hillsides and the Kaikoura mountains looming in the distance.
Drivers disembarking from the inter-island ferry at Picton will be struck by how different the climate and landscape is from that a mere twenty miles across the Cook Strait – the days are warmer, and the long drive down Highway 63 along the Wairau Valley evokes a loneliness not felt on the North Island. Marlborough introduces an exciting foreboding – fitting, given the peril, the joy, and the thrills and spills the South Island has in store for its visitors.
Enticing early explorers to the region, the Hebridean network of islands and peninsulas at the northern tip of Marlborough provide a fascinating insight to the relationship between the South and North islands, and are the first sign of the spectacular mountainous terrain which imposes itself further south. Similarly, the Pelorus and Kenepuru Sounds, accessible at Havelock, provide a glimpse of what awaits down at the more famous sounds in Fiordland.
Further inland, Awatere Valley has become known as Wine Valley, and his home to an impressive range of varietals. As much as Alsace or Champagne, Marlborough has become synonymous with its vineyards. The Sauvignon Blanc is widely considered to be amongst the best in the world, but the alternative moist and dry air encourage sweet grapes, and the region has been responsible for restoring Reisling's reputation from its Blue Nun doldrums. Most wineries have tours and tastings, and cycle hire is a must.
Blenheim
Benefitting from the Marlborough's viticulture, Blenheim has become a vibrant and affluent city, with its own CBD and pleasant suburbs. One of the sunniest cities in New Zealand, it's often considered as a gateway to the South Island, offering a choice of Highway 63 to take you through wine country along the Wairau valley, or Highway 1 towards the coast and down to Kaikoura. It's a great place to sample Marlborough's wine, with most of the bars in town stocking a handsome range of local vintages, and when you're down tasting, why not take a pleasant walk along the Taylor River Reserve. And as with so many locations in the South Island, there is something for Lord of the Rings fans, with Sir Peter Jackson's personal collection of WW1 planes available to view at the Omaka Aviation Heritage Centre.
Marlborough Sound
The jagged, fractured coastline and island network at the tip of Marlborough foreshadows the wild excitement offered by the South Island. This remote beauty is best explored from the water, and whether it's a guided charter tour, a fishing expedition or making your own way in a kayak, there are plenty of companies which specialise in navigating the main Sounds – Queen Charlotte, Kenepuru, Mahau, and the aptly sonorously named Pelorus. Seals snooze on the slopes of the scattered islands, and dolphins frequent the area, drawn to its rich fish stocks. Wine seafood connoisseurs are in their element, with tours featuring freshly caught salmon and shellfish accompanied by award winning wines from lower down the region.
Picton
Although Picton is best known as the main landing point for ferries from the North Island, it also serves as a gateway to the main tours of North Marlborough. The spectacular Queen Charlotte Track technically begins in Picton, with many water taxis taking walkers to Ship Cove where the track starts in earnest. Seemingly ubiquitous in this area of New Zealand, cruise operators function out of Picton offering dolphin spotting and fishing. Alternatively, check into one of the many local hostels or campervan parks, and just relax after a long ferry ride in one of the many bars and restaurants.
All Other Backpacker Hostels in This Area
The Station Backpackers
1a Dillons Point Road, Blenheim (close to i-site/train station)
+64 (0)3 577 6737