Just 40 km across at its widest, the Coromandel Peninsula might be relatively speaking small but boy has it managed to pack a lot into its space. It dishes up gorgeous beaches by the bucket-load which include such delights as Hot Water Beach and Cathedral Cove and comes dotted about with teeny settlements.
Towns of a (slightly) larger size come by way of places like Thames and Coromandel Town which have thriving arts and crafts scenes and lovely street cafes to watch the world go by. The Coromandel also has a liberal helping of rainforest and forests – some of which are home to mighty kauri giants and all of which have hiking trails.
These areas hide waterfalls among their natural beauty as well as featuring a plethora of leftovers – both evident and hidden – of the peninsula's gold-mining past which is scattered all over this region.
A favourite haunt of week-ending and holidaying Aucklanders, the Coromandel can seem like a bustling hub during the summer but there are always plenty of quiet corners to be found if solitude is your aim.
Those looking for adventure and adrenalin-injection are well-catered for too – take your pick from some great scuba diving, skydiving and canyoning – to name just a few of the fun choices found here.
Un-missable THINGS TO DO in the Coromandel Region
Marvel at Mother Nature's water sculpted 'cathedral' at Cathedral Cove
Take a walk through gold mining history and stunning nature in Karangahake Gorge
Dig your own personal spa at lovely Hot Water Beach
Look into the depths of a rainbow-coloured marine world on a glass bottom boat trip
Take a hike along the coast with the Coromandel Walkway trail
Serenely paddle board your way in total hush into secret lagoons, sea caves and hidden coves
Wander among the atmospheric gold-mining ruins of the Victoria Battery
Check out the arts and crafts scene in historic Coromandel Town and Thames
Hop aboard the Driving Creek Railway for a train ride with a difference
Splash, swim, abseil, leap and otherwise get your adrenalin fix with a spot of canyoning
Cathedral Cove
1. Cathedral Cove
Another gorgeous New Zealand coastal offering characterised by azure seas lapping at bleached sands. However, there is a little something extra here. The lovely beaches are divided by a natural rock arch which gives onto a cavern type structure with a soaring ceiling.
The overall feeling is cathedral-like, hence the name. Access is possible at all tides but if its high you might have to be prepared to get a bit wet.
2. Karangahake Gorge
Threaded about with trails and tracks of every kind which offer walks both quick and easy and more challenging, this gorge passes through stunning scenery dotted around with relics and reminders of the region's gold mining history.
With the river seeming far below you, you can take a stroll through tunnels and look out of blasted out 'windows', weave your way past old abandoned machinery and buildings and even visit a waterfall.
The entire walk is quite long but it has been broken down into bite-sized chunks which are detailed on the free map complete with route choices and historical fact information you can pick up at an i-SITE. The trails are also open to cyclists if you prefer to explore on wheels.
Hot Water Beach (Image Credit: Adam Bryce)
3. Hot Water Beach
Lovely beach it may be but this region has plenty of those so why do so many – both Kiwi and visitor - flock here? The answer is simple – get digging in the sand 2 hours either side of low tide and hey presto - your very own hot water spa pool to lie back and enjoy; all thanks to underground springs of geo-thermally heated water which run under this beach.
Hours later the high tide washes every evidence away so the next crowd of spa-lovers can do it all for themselves.
4. Glass Bottom Trip
Hop on board one of the four times daily (twice daily outside of summer) glass bottom boat tours which set off from Whitianga wharf and get a fascinating glimpse into the multi-coloured marine wonderland thriving beneath the waters of the Coromandel coast.
As well as viewings of the reefs and watery depths you will be given a whistle-stop tour of all that is of interest here which includes Cathedral Cove, offshore islands, vast sea caves and blow holes.
Blue penguins and New Zealand fur seals are common sights and as these waters are home to both whales and dolphins it is not unusual to spot them too. If getting in among it all appeals you can go for a snorkel from the boat as well.
5. Hikes and the Coromandel Walkway
The Coromandel is a short hop from Auckland – the country's most populous city – which means things can get a little rammed here on weekends and holidays. However, head a little northwards and the crowds start to thin out and once you get to the tip you might well have things all to yourself.
The 10km day hike known as the Coromandel Walkway is located at the region's tip and is full of sublime coastal scenery with views over rocky outcrops and islands which include the Pinnacles, Sugar Loaf Rocks and Great Barrier Island. Linking Stony Bay and Fletcher Bay – both of which have enough of lovely in them to tempt you to spend some time here – you will traverse bushland and farmland and have plenty of time in the 3 to 4 hours it will take you to revel in your solitude. As most people opt for a one way hike there are a couple of companies which offer pre-arranged shuttle services to get you back where you started.
An exceptionally easy nature amble can be found amid the kauri forest walkways and footbridges at Waiau Kauri Grove. You can also take in the fairy glade-like Waiau Falls which are not grand-sized but are both charming and scenic and have a pool in which you can take a refreshing dip after your (mild) exertions.
6. Stand Up Paddle Boarding the Coast
SUP's beginnings can be traced back to traditional surfing but unlike that sport is incredibly easy to master and can be enjoyed on pancake flat waters; perhaps it is these facts which have made it one of the fastest growing sports ever known. Gorgeous inlets, tucked-away coves, sea caves and hidden lagoons are found all over the Coromandel and make a heavenly playground for SUP. Whangamata is a good base from which to rent equipment if you want to go it alone or you can sign up for lessons or a guided paddle if you are brand new to it all.
7. Victoria Battery
Back in the 1800s, this gold-mining site was the country's biggest industrial set-up where the sounds of both machinery and people busy in the workshops and sawmill and working the giant rock crushers known as stampers rang out constantly. Today, nature has re-staked her claim over the evocative ruins and if you are lucky enough to find yourself here alone the whole – complete with cyanide tanks, roasting kilns, access tunnels and transformer house - oozes atmosphere.
8. Coromandel Town and Thames
The Coromandel doesn't do cities – pretty, sleepy Coromandel Town is as big as it gets. Despite its small size – even though it was once part of the country's most lucrative gold-mining regions - and backwater air, Coromandel Town packs quite a bit in and has a thriving arts and crafts scene, a small museum and any number of tours and activities which set off from here. Take a wander around or plonk yourself down at a street cafe to soak up the atmosphere and watch the world pass by.....slowly.
Thames – the gateway to the Coromandel – is a little (very little) more bustling than Coromandel Town and, like its regional cousin, was also once a thriving gold-rush era town. It has pohutakawa-lined swimming beaches along its coast (head to Kuranui Bay or Waiomu Beach for free use of gas barbeques located there), the Butterfly and Orchid Gardens, two museums, art galleries and crafts outlets, water gardens and hiking options.
9. Driving Creek Railway and Potteries
For a quirky ride, hop aboard a Driving Creek Railway train, just a little outside of Coromandel Town, and head to the mountain top via kauri forests, over viaducts and through tunnels. If that doesn't sound especially quirky wait until your little train needs to make a turn.
The terrain in these parts is really not made for railway track turns but the ingenious folk here didn't let that stop them. When you come to a corner, the driver will drive into one of the reversing points, climb out of his cabin, swap ends, and then set off again. There is a viewing tower at the top of the mountain which lets you take in all the glory of the Hauraki Gulf dotted about with its islands.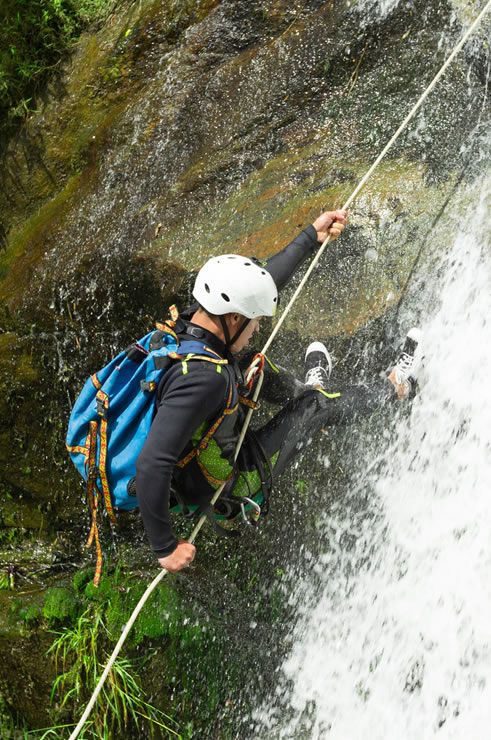 10. Canyoning
As this is New Zealand the options on the adventure menu are plentiful here and include extreme off-roading on 8X8 vehicles, diving, snorkelling, surfing, mountain biking, kayaking, horse trekking and skydiving. However, the Coromandel also has some offerings in the lesser found category such as canyoning.
If you have grown a little tired (as if!) of all the other dare-devil type possibilities which New Zealand will throw at you might like to try your hand at a spot of canyoning, guaranteed to satisfy even the most ardent adrenalin junkie.
Race down zip-lines, abseil waterfalls, whizz down hardcore water chutes, swim pools, throw yourself from great heights and otherwise make use of a combination of scrambling, clinging, slipping and sliding over wet rocks.