Image Credit: Sam Mahayni
Driving in New Zealand
New Zealand is a great country in which to drive and take a road trip, with its amazing landscapes of mountains, lakes and coastlines, while still being very accessible. And while for the most part, the roads are generally quiet, well-maintained and with well laid out traffic signs, it also has its fair share of narrow, windy and gravel roads. No matter if you are a seasoned driver it's really important to read up on New Zealand's rules and laws regarding driving and road safety.
Rules of the Road
You must carry a valid driving licence with you at all times whilst driving on NZ roads as the police can issue you with a fine if you don't. See http://www.nzta.govt.nz/licence/residents-visitors/driving-nz.html for more information on who can drive on NZ roads as well as what constitutes as a valid driving licence in NZ.

New Zealanders drive on the left, like Australia and the UK.

It's compulsory to wear a seat belt if one is provided.

Keep to the speed limit and always stop at STOP signs.

Only overtake when its safe to do so, and NEVER cross a solid yellow line on your side of the centre line.

Do not drink and drive. Driving under the influence of alcohol or drugs carries severe penalties for those caught.

Do not use mobile phones while driving, whether it's to make a call or send a text.
We recommend you heed these rules when driving, and check out the following resources for a more in-depth understanding of the Road Code: NZTA Road Code Handbook and the Drive Safe websites easy to follow rules of the road.
Traffic signals and giving way
You must always use your indicator when turning, and if you are turning at traffic lights then you must give way to pedestrians already crossing the road.
You must not turn at an intersection where the signal is red (unlike in America, which has a free turn) - red always means stop.
Give way (yield) to your right at roundabouts (turning circles) and drive them in a clockwise direction. As you approach a roundabout signal in the direction you want to turn (left for turning left, right for turning right or no signal for going straight ahead). Once you are on the roundabout, signal left off it - i.e. just after the exit before the one you want to take, signal left and then exit the roundabout.
On roads, give way to all traffic coming towards you that is passing straight through or turning left. At a T-intersection, give way to traffic on the top of the T if you are on the bottom of the T.
The New Zealand Transport Agency has produced an in-depth driving guide, with graphics, on the Give Way rules which are really worth checking out.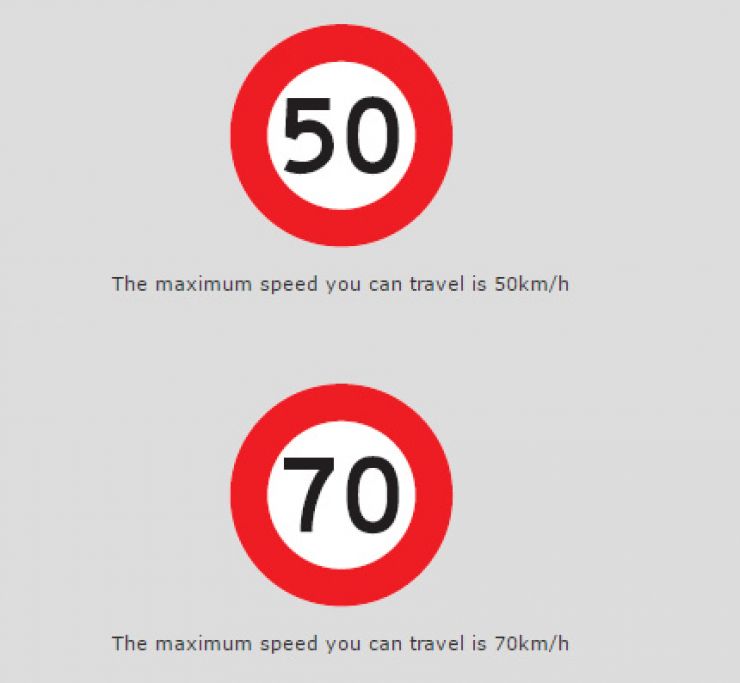 Image Credit: NZ Transport Agency
Speed limits
Driving too fast is a contributing factor in around a third of fatal crashes on New Zealand's roads. So it's really important you take heed of the speed limits. You may think the road looks clear but there are always hidden dangers you just won't be aware of such as livestock, hidden dips, side roads etc.
The maximum speed you can travel (in good weather conditions) are displayed on road signs beside the road. These signs usually have a red border, which means that the sign is compulsory, with the maximum speed written in black inside the border.
The most important speed limits are:
Open road, motorway and freeway default: 100kph
Urban default: 50kph
School zones: 40kph (between certain times)
Roadworks (urban): 30kph
Past a stationary school bus picking up/dropping off children, or the site of an accident: 20kph
Shared pedestrian zones: 10kph.
Because of the high number of deaths on New Zealand's road, the Police take this very seriously so don't expect because you are a visitor you will get off with a slap on the wrist, or that any conviction or penalty will not follow you back to your home country when you leave, because it will.
Typically if you are found to be exceeding the speed limit by more the 40km/h there is an automatic 28 day licence suspension.
Alcohol and drugs
There is a zero alcohol limit for drivers under 20 years old. For drivers 20 and over the limit is 250mcg/litre of breath, or 50 milligrams per 100 milligrams of blood. It is always illegal to drive under the influence of any kinds of drugs, whether legal or illegal. It is difficult to say how many alcoholic drinks you can have before you reach these limits as it will depend on factors such as sex, weight, last meal etc. So the best advice is: if you drink at all, don't drive.
You can be stopped by the police and breath-tested at any time. The police can use the following tests to see if you have been drinking or taking drugs:
Passive breath test – uses a hand-held device in front of your mouth which you talk into it. This will show if you have recently drunk any alcohol. If any alcohol is detected, a breath screening test will be required.
Breath screening test - you will be given a small electronic device, which you will be asked to blow into. If your alcohol level is high, you will be asked to take an evidential breath test or have a blood test.
Evidential breath test – is an electronic device you blow into, which gives a reading that can be used in court as evidence of your breath–alcohol concentration.
Drug impairment test - this includes an eye assessment, a walk and turn, and a one leg stand assessment. If you fail you may be forbidden to drive and required to have a blood test. These will be carried out if the police officer suspects you are impaired by drugs, which could be from erratic driving, or if you have been stopped for another reason and appear to be under the influence of drugs.
If the test shows you have been drinking, you must hand over your keys, if asked to do so, go with the police office and if required and agree to a blood test. If you don't, you may be arrested.
What are your rights?
You may:
choose not to take a breath screening or evidential breath test – however, if you:

refuse a breath screening test, you will be asked to take an evidential breath test
refuse an evidential breath test, you must undergo a blood test

choose to have a blood test if an evidential breath test shows you are over the legal limit. The court will take the results of the blood test over the results of the evidential breath test
talk to a lawyer or solicitor (if you wish to) after a positive breath screening test and before an evidential breath or blood test – a telephone will be made available to you for this purpose
If your blood test shows you are over the legal limit, you will be given a copy of the blood test certificate. You may ask for your blood sample to be tested by an independent analyst. If you want this to happen, it's important that you talk to a lawyer as soon as possible.
Penalties
The penalties handed out vary from disqualification of anything from 3 months to more than a year, and for the serious cases where your alcohol limits are very high or you have causes death or injury, then there are jail sentences of 3 months up to 10 years or $20,000 fines.
Rural hazards
Livestock are moved frequently along rural roads. Stop your vehicle and wait for instructions from the farmer.
Many railway level crossings do not have lights or barrier arms and just have a stop sign. Double-check no trains are coming before you cross.
Unsealed gravel roads are common in some areas.
Narrow one-lane bridges are found everywhere outside of the main centres. You have right-of-way if your sign has a white arrow pointing upwards. You must still wait for traffic to clear the bridge before entering it, though.
Recommended resources
There are other rules you should be aware of when driving, so check out these resources recommended by Tourism Industry Aotearoa.
More detailed information for international visitors is covered in: