On many people's bucket list - swimming with dolphins is certainly an experience you'll never forget. There are loads of dolphin watching and swimming tours available in NZ, with most of them taking extraordinary care to make sure that the dolphins are not harmed or disturbed. So whether you get to swim up close to them or see them from afar the opportunity to see dolphins in the wild is an unforgettable and unique experience.
8 Dolphin Swimming Companies in NZ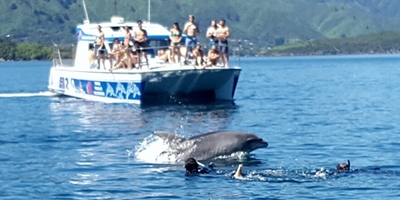 Dolphin viewing from $99 & Swimming from $165
E-Ko Tours (Nelson/Abel Tasman)
Join us on NZ's BEST dolphin & wildlife experience in the calm waters of the scenic Marlborough Sounds. Options available to swim or view up to 5 dolphin species. Bird watching tours also available.
Experience a true adventure for your soul in amazing surroundings.
Run by experienced, qualified & passionate guides.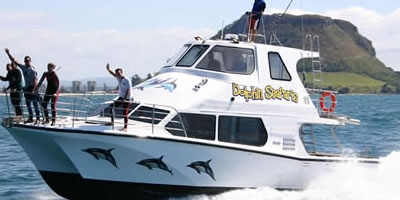 Dolphin Seafaris
Both free swimming encounters with dolphins as well as safe swim bars to hold on to while in the water.
Auckland Dolphin Safari
Don't miss this unique whale and dolphin tour aboard New Zealand's only research focused vessel that is open to the public.
Dolphin Eco Experience
Cruise the Bay of Islands in search of dolphins and whales. Get up close and personal to these amazing creatures.
Swim with Dolphins
We have conducted dolphin swimming for over 20 years and were one of the first dolphin swimming operators in New Zealand.
Dolphin Encounter
Tours operate daily and have a duration of approximately 3.5 hours. Dolphin location can sometimes mean the tour may be extended.
Orca Wild Adventures
The friendly experienced crew will ensure you make the most of your time while on and in the water with the dolphins.
Akaroa Dolphins
Akaroa Harbour is home to the smallest and rarest dolphins in the world, the Hector's dolphin.