Queenstown Backpackers & Hostels
Queenstown is the adrenaline capital of New Zealand and goes off all year round! In the winter it is one of the best ski resorts in the southern hemisphere and in the summer an adventure sports capital. Wanaka is a more relaxed alpine town with amazing views across the mountain ranges.
Currently 18 hostels in this area
Filter by Location: View All , Arrowtown & Glenorchy (2), Queenstown (12), Wanaka (2)
Perfect location
Fantastic purpose-built property located just metres away from the lake in central Queenstown, with views of the snow-capped mountains.
Open fireplace, large TV lounge & communal area, lake & mountain views, cinema, sauna, WiFi
Central location
Base Backpackers Queenstown sets the standard in Queenstown's budget accommodation with amazing alpine & lake views and a great central location.
Full range of rooms, ensuites with TV, DVD, CD player, TV lounge, chill out area, open fire, ski season drying
Central Location
Lake views while enjoying your stay in Wanaka this is a lively and cosy spot all year round.
Fully equipped kitchens, Spacious Guest Lounges, All rooms en-suite
Lakefront Location
Stunning Lakefront location, without the price tag! This property boasts enchanting lake and mountain views set on the edge of town.
Kitchen & Dining, Lounges, Terrace with Lakeview, Secure Bike/Ski Store, Private Ensuite rooms
Premium B'Packers
Stay at our upmarket backpackers in Queenstown; Haka Lodge! Choose from Luxury bunk beds to private rooms.
Free unlimited WIFI, NZ's best bunks, shared kitchen space, linen provided, laundry facilities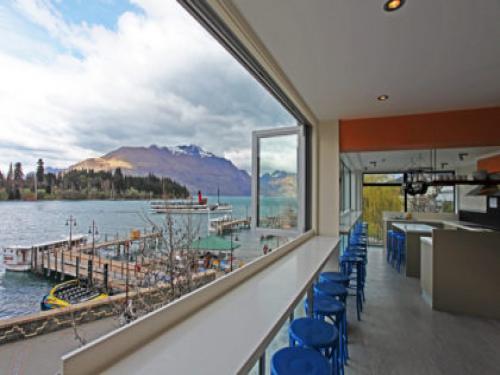 Absoloot Hostel Queenstown
Absoloot Backpackers Queenstown is located in the heart of town and offers a friendly service and quality, clean accommodation options.
Tucked away at foot of the Southern Alps, lapped by Lake Wakatipu and flanked by Ben Lomond and The Remarkables, Queenstown was one of the centres of the Otago gold rush of the 1860s. Originally a town where sheep were traded, early farmers were paid vast sums for their land by prospectors drawn to the area (land already purchased from Maori tribes, to whom gold had little value), thus establishing Queenstown's economic and social ascendance.
After the gold rush subsided, the Otago area experienced the post-war global depression during the 1920s and 1930, but found itself a key export market for agrifoods after the Second World War. And whilst this market declined after Britain joined the Common Market in 1975, the region – and Queenstown in particular – was reinvented as a tourist destination, promoting itself around the world as hub of outdoor sports. With excellent ski fields, lakes, rivers and canyons, today Queenstown is synonymous with extreme sports, and is one of the liveliest and most popular destinations in New Zealand.
Central Queenstown
Despite its fame, Queenstown itself is actually a rather small, compact area, with most of the bars and restaurants clustered in the narrow streets leading back from the harbour. Unsurprisingly, this is also where most of the backpacker hostels are located, with well over thirty to choose from in the downtown area. If you fancy your accommodation with a more scenic setting, look out for the hostels heading out of town on Lake Esplanade where you'll find plenty of lakeside spots. If you're campervanning or camping, most of the sites are set out of town along Gorge Road, which itself will eventually take you to Arthur's Point and the Shotover River.
Arrowtown
Fifteen miles north east from Queenstown lies the little village of Arrowtown. Shadowed by the Cardona mountains, there is something of a western feel to the place, with the shops and walkways reminiscent of old American frontier towns. This is perhaps not surprising when you consider the heritage of the town is steeped in the gold rush fever which swept the Otago region the 1860s. The boom attracted prospectors from across the world, and the mixed architecture reflects the multi-cultural influences which shaped the town, with buildings in American, Chinese and European styles. The town falls under various heritage protection legislation, thus protecting its unique look and feel.
Glenorchy
Thirty miles north west from Queenstown is the popular resort of Glenorchy. Much more of an outpost than its neighbour Arrotown, Glenorchy serves as an entrance to Fiordland and Lake Te Anau, and a good stop off point before attempting the Routeburn Track, one of New Zealand's nine "great walks". Glenorchy has also been a staging post for a number of famous movies which used the majestic expanses which lie beyond, and fans of Peter Jackson will be familiar with some of the promontories.
Wanaka
Once a quiet little town on the fringes of Mount Aspiring National Park, Wanaka has benefitted greatly from the passion of outdoor sports suffusing the Otago region. It is now a vibrant centre for skiing, boating, climbing and hiking. It's close proximity to Treble Cone and the Cardona ski-fields make it an excellent stop off on any ski-trip of the South Island. Quieter than Queenstown, Wanaka nevertheless has fallen under the spell of its international clientele, with a selection of bars and restaurants that deliver truly global cuisine in an outstanding setting. There's also an abundance of backpacker accommodation, as well as plenty of lakeside camping to be had.
All Other Backpacker Hostels in This Area