Image Credit:NorthlandNZ.com
Northland & Bay of Islands
The Northland and Bay of Islands regions of New Zealand are a backpacker's playground jam-packed with all kinds of bucket list entries and fun stuff. Crammed within a relatively small area are so many things to see and do you might well end up spending rather more time in this sun-soaked sub-tropical area than you originally planned.
Adventure activities abound – this is New Zealand after all – and include everything from skydiving to swimming with wild dolphins, while spectacular sights include the mighty giant tree known as Tane Mahuta, glow worm-studded underground caverns, cascading waterfalls, the world's largest Maori canoe, a beach which is also a road and the dramatic point where Pacific Ocean meets Tasman Sea.
So gorgeous, varied and plentiful are the beaches here that many who arrive don't stray far from the coast and simply spend their days surfing, sunbathing, enjoying barbeques on the beach and keeping their eyes peeled for passing dolphin pods.
You may have days or months in this beautiful area but, no matter what, you will not struggle to fill your stay with whatever might be your image of the ideal whether that is exploring the historical and cultural, bumming at a picture-perfect beach or getting an adrenalin fix.
Un-missable THINGS TO DO in the Northland and Bay of Islands Regions
Visit the lovely Whangarei Falls while making the most of budget-friendly Whangarei
Hug a 2500 year old tree in the Waipoua Forest
Whizz down the giant Te Paki dunes for a spot of fast and furious dune surfing
Drive along a road which is actually a beach to Cape Reinga
Spend a penny in possibly the world's loveliest –and quirkiest - toilets in Kawakawa
Enjoy an evening of glow worms and kiwis in Waipu or Kaitaia
Take your pick of 101 beautiful beaches or water activities
See where the historically significant Treaty of Waitangi was signed in Paihia
Indulge yourself with some culinary treats such as the Bay of Islands' seafood delights
Ramble around pretty Russell
Image Credit:NorthlandNZ.com
1. Whangarei Falls
New Zealand isn't short of waterfalls of every variety which include spectacular, beautiful and awe-inspiring. The 26 metre-high Whangarei Falls, a few kilometres from Whangarei city centre, definitely falls into the highly scenic category.
The easy 1 km walk there is also rather lovely – with some more challenging options if you want them - and once you arrive there are two viewing platforms which give you bird's-eye-view look-outs for both waterfall and forest.
While you are in the area make the most of all the free and backpacker-friendly cheap things to do in and around Whangarei - New Zealand's most northerly located city. Pop into the i-SITE to see what freebies/low cost activities and sights you can enjoy such as the Quarry Arts Centre or the Native Bird Recovery Centre.
Image Credit:NorthlandNZ.com
2. Tane Mahuta and the Mighty Kauris
Lurking in the forests of the Northland's Waipoua Forest – an area enshrouded in myth and legend - is an ancient giant called Tane Mahuta or 'Lord of the Forest. This particular giant happens to be a kauri tree which is believed to have a grand age of between 2000 to 2500 years and measures a whopping 14 metres around (think 10 adults in a circle holding hands) and 51 metres high. Still can't picture it?? Then look closey at the photo - spot the the man in the orange jacket - yes the tree's are that big!
When gazing up into this behemoth's branches it is mind-blowing to imagine it has been standing in this spot since Bronze Age man walked the Earth. Kauri trees abound in this area – many of impressively large stature - and are of enormous importance both economically and culturally. Take a peek inside the award-winning Kauri Museum at Matakohe to get informed about all things kauri.
3. Te Paki Giant Sand Dunes
As you are trudging your way skywards on one of these giant dunes, each step feeling like walking through treacle, you might ask yourself if all this effort is worth it. However, arrive at the top and glance around at this awe-inspiring desert-like-other-worldly landscape and you will without doubt answer yes. But the amazing views are really not the reason why folk scale these shifting mountains.
The whole point in climbing them is to be able to then launch yourself on a body-board/tray/square of cardboard head first down a slope which will appear stupidly sheer from the top and plummet back towards sea level, hopefully still attached to your vehicle of choice at the end of the ride. This is sand surfing and it's a whole heap of fun – even if you will be picking sand out of untoward places for days to come!
Image Credit:NorthlandNZ.com
4. Cape Reinga and Ninety Mile Beach
Well 90 miles it isn't (in case you are interested it's 55 miles) but it is still very long and what's more it is officially a highway. Wild and deserted for long stretches, the beach is also the graveyard of many a rusting vehicle owned by some-one who didn't realise a road which is a beach isn't suitable for all-comers.
Rental vehicles are prohibited but many tours drive you up the beach and then take in Cape Reinga at the beach's far north. It isn't technically the most northerly tip – which is a little further still and almost inaccessible - but it is the spot where Tasman Sea collides with Pacific Ocean and makes for a stirring sight when the weather is stormy.
Cape Reinga is a sacred place to the Maori who call it Te Rerenga Wairua – the leaping place of spirits – where the souls of the dead depart to return to the underworld.
Image Credit:NorthlandNZ.com
5. Hundertwasser Toilets
Typically speaking, strolling into public toilets to take photographs could at best be considered a little weird but folk wander into the Hundertwasser toilets in Kawakawa clicking away on phones and cameras every day.
Of course, these are no ordinary public conveniences but a work of art and a major tourist attraction. Designed by Austrian architect Frederick Hundertwasser, these loos are an incredible architectural tapestry of vibrancy, quirkiness, a riot of rainbow-coloured glass and ceramic tiles, tiny sculptures and a living tree. Don't worry if you don't need to use the facilities – hardly anyone who comes here does – just be sure to have your phone or camera at the ready.
6. Glow Worms and Kiwis
Glow worms and the eerie, magical light they cast in the darkness are something of a theme in New Zealand but nowhere is this sight more spectacular than in the otherwise total pitch-black obscurity of a cave. One of the Northland's prime spots for this – and one which is absolutely free – is in the town of Waipu from which you can take a walk to the caves. There are no paths once inside, you'll need to bring a torch and be ready to slosh through some water but the stalactites and glow worms are well worth it.
Alternatively you can sign up for an evening guided walk at Kaitaia's Ecovalley and stroll along glow worm-lit trails to go in search of New Zealand brown kiwi.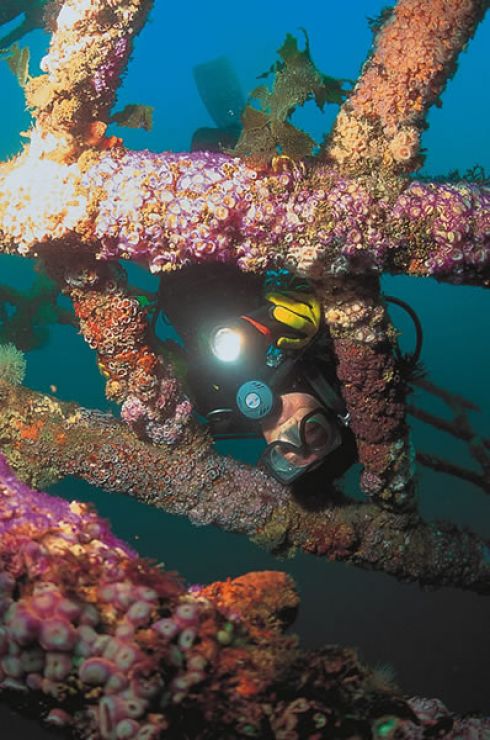 Image Credit:NorthlandNZ.com
7. Beaches, Coast and Water Activities
The theme of beaches and coast run through the Northland and the Bay of Islands as solidly as a name through a stick of rock. It isn't just the sub-tropical climate; there is mile upon mile of coast here and getting from the wilder beaches of the west to the white powder sand bays, turquoise waters and hidden coves of the east is often nothing more than a hop, skip and jump thanks to the narrowness of the land mass here. Stand out beauties include dazzlingly white, talcum powder soft sand Rarawa, the oh-so-lovely twin-crescent beaches of Matai Bay and Matauri Bay – the resting place of the wreck of the Rainbow Warrior.
Dolphins are frequent visitors at many of the beaches and while some folk choose to use their beach time to picnic, relax or simply gaze on the beauty of it all others use these shores as a vast natural playground. Water activities and adventure abound. There is the world-class diving site of Poor Knights Islands complete with the planet's largest sea cave, underwater arches and more than 125 fish species which appeals as much to snorkelers and kayakers as scuba divers.
And then there are another 101 options for watery-type fun with backpacker central Paihia and the gorgeous Bay of Islands region acting as a hub. With 144 islands on the possible to-do list here, many find a trip on these emerald and turquoise-hued waters with perhaps an island hop off or two and a snorkel thrown in is enough. However, if you want more, your possibilities for fun include swimming with wild dolphins, wildlife cruises, jet-boating, sailing, stand up paddle surfing, swimming, kayaking, fishing, snorkelling, parasailing....and the list goes on.
Image Credit: Destination Northland
8. Waitangi Treaty Grounds
Anyone even vaguely interested in the history and culture of New Zealand needs to get themselves to Paihia and walk on the very piece of earth which witnessed the birth of a nation. The Waitangi Treaty Grounds are the actual site of the 1840 signing of the document which founded modern New Zealand – a treaty which remains a bone of contention even today.
Here you can wander around the Treaty House, explore the lovely grounds which come complete with views of the stunning kind or admire the intricate workmanship of the world's largest waka (canoe). There is also the opportunity to take in a Maori cultural performance in the exquisitely carved meeting house.
9. Culinary Delights
Thanks to the proximity of everywhere in the Northland and Bay of Islands to the sea, coupled with the fact that the said seas are teeming with life, you can expect a veritable feast of mouth-watering seafood options no matter where you go. Nowhere is this truer than in the Bay of Islands which offers up everything from quality fish and chips to fine dining experiences (typically a little beyond the backpacker budget).
And even if you are not a seafood lover there are still plenty of culinary treats for all tastes. Eateries and foodie experiences abound and include such things as cute cafes serving boutique chocolates and artisan ice-cream parlours to food and wine tours which get you behind the scenes and rubbing shoulders with the craftsmen, vintners and producers of all the local goodies. If this sort of thing appeals head to Paihia and Russell to be spoiled for choice
10. Russell
When Russell is described in tourist literature you will inevitably see the words 'charming', 'picturesque' and 'pretty' employed almost to the point of overuse. However, once you set foot onto the ....ahem....charmingly, picturesque Russell streets you will start using the words yourself.
This town lays claim to being the country's first permanent European settlement which means historically speaking Russell rather has some importance. New Zealand's oldest church – the 1835 Christ church – can be found here complete with bullet holes which are leftovers from the 1845 sacking of the town. Also, very, very old by New Zealand standards and open to visitors, is the 1842 built Pompallier House which was once used as the printing press location for the Roman Catholic missionaries.
Life in Russell moves slowly and there is no better way of immersing yourself in this serenity than planting yourself at one of the many cafes to watch the world go by.