Image Credit: Chris McLennan
Best Things to Do In Auckland
Home to more than 30% of the entire country's population, sprawling Auckland has appeal by the bucket-load and with mind-boggling diversity. The centre of things here is easily navigable on foot which allows you to explore the markets, festivals and street entertainers. While further afield you'll find white-sand beaches, waterfall-studded forests and nature hiking.
Here can be found all the delights you might expect from a cosmopolitan metropolis such as art galleries housing Cezanne and Picasso pieces, museums – including such delights as the widely acclaimed Auckland War Memorial Museum - restaurants, bars, shopping centres and theme parks. Auckland is also home to the elegant Sky Tower, a dominant feature on the city's skyline from which you can eat in a revolving restaurant, drink in far-reaching views or throw yourself from its summit depending on whether scenic or scary most float your boat.
The centre of things here is easily navigable on foot which allows you to explore the markets, festivals and street entertainers often found in Aotea Square or the alternative (and sometimes seedy) vibe of Karangahape Road (K Road in local lingo). Here is where you will find some cool second-hand and vintage shops, a host of ethnic eating options and rub shoulders with the city's Bohemian and colourful in the bars and clubs.
However, there are also plenty of things in and around Auckland which you most definitely would not expect to find in a city of this size. These include white-sand beaches, waterfall-studded forests and nature hiking aplenty – all of which can be found over and again on both the mainland and among the jewel-like islands of the Hauraki Gulf. Getting out on the water is an almost compulsory part of any visit here and there is a wealth of ways to do this.
Ferry services ply their trade back and forth while tours are offered on board every kind of watercraft which ranges from the tiny to the luxurious. The Hauraki Gulf Marine Park - the country's first – appears to be almost bursting at the seams with marine life including seals, rare sea-birds, penguins and whales and dolphins both resident and migrant which makes wildlife cruises and dolphin watching boat trips incredibly popular.
It is highly likely you will begin your New Zealand adventure in Auckland so make sure you take at least a little time to check out some of its many treasures, both man-made and natural, before you head out of town.
Un-missable THINGS TO DO in Auckland
Drink in the views, dine in style or fling yourself from the city's iconic Sky Tower
Maori battles to WWII – take in the evocative ruins and relics at Fort Takapuna
Check out all the main attractions the easy way with a hop-on hop-off bus tour
Tick off a bucket-list dare by surfing at Piha or with the Harbour Bridge bungee
Immerse yourself in myth and legend on a Maori walking tour
Prove to yourself that cities can do lovely beaches with a day at Mission Bay
Scream until you're hoarse with a terrifying journey through Spookers
Go whale and dolphin spotting on a wildlife cruise
Check out Auckland's party scene on a backpacker pub crawl
Spend a few hours......or a few months on one of the idyllic Gulf Islands
Feel the sea-breeze in your hair at the Silo Park open-air cinema
Venture from the centre and go exploring the suburbs
Take a ride on Auckland's Supreme Scream Machine while seeing the sights of the city
Image Credit: Sky Tower
1. The Sky Tower
Iconic and impossible to miss, the needle-like Sky Tower dominates the Auckland skyline. In essence a telecommunications tower, it is really so much more than that, not least of all because it is the tallest free-standing structure south of the equator. For 360° views which stretch off up to 80 km in every direction you can take a seat in the revolving restaurant or simply spot the landmarks of the city and beyond from a glass-floored viewing platform.
The Skycity within the tower is home to a casino, multiple restaurants and a theatre while the scare-yourself-silly brigade have a choice of two adrenalin pumping activities – the 'Skywalk' and the SkyJump base jump. The Skywalk is a stomach-churning stroll around a barrier-free platform 192 metres above the Auckland Streets.
If that doesn't seem quite hardcore enough you can opt for the 192 m high, wire-attached base jump (incidentally New Zealand's only commercial one). After 11 seconds of 85 kph plummmeting you will alight smirking and graceful in the Sky City Plaza (spontaneous rounds of applause from onlookers is typically the way it goes).
2. Fort Takapuna, North Head, Devonport
Known by more than one name locally, this highly atmospheric historical site tends to remain absent from tourist literature which keeps the tourist traffic to a minimum and raises the chances of having everything to yourself. With a little bit of everything from each era of the country's coastal defence history, dating from the first Maori, you can freely wander around crumbling structures and explore tunnels and underground rooms which have been used as gun emplacements, stores for ammunition and also served to house both POWs and military personnel.
Surrounded by relics dating from the days of the first European settlers, as the sun sinks and the lights of Auckland start winking into view from across the water, this gem of a place can make you feel as if you are straddling centuries.
3. Hop-on hop-off bus tour
If you are a little short on time or you feel too overwhelmed by choice to know quite where to start in this great city the hop-on hop-off bus options which take in all the major attractions might be just the thing. With a couple of looping routes on offer, these buses, which feature audio commentaries as you go, allow you to hop-off should you see something which you'd like to explore in greater depth. As buses depart every 30 minutes (every hour in the winter) you'll easily be able to hop back on board another bus when you've had your fill or want to go exploring something else.
Image Credit: AJ Hackett Bungy New Zealand
4. Surf lessons in Piha or bridge bungee in Auckland
Black volcanic sand Piha on Auckland's west coast is a city surfers' magnet. Dangerous and strictly for the experienced when there is a larger ocean swell running, Piha can be a fun place to learn to surf in the hands of experts and there is always at least one surf school operating from here.
Total beginners to experienced surfers looking to up their surf game can sign up with surf instructors for an hour or for days and it is super easy to escape the city this way; Piha is just a 40 minute bus ride from Auckland central.
Perennial bucket-list favourite bungee jump can be ticked off in Auckland at the AJ Hackett operated Harbour Bridge bungee which just happens to be New Zealand's only ocean dip option. Throwing yourself into space takes place from a cute little suspended pod and the bridge walk journey to get there is a whole other adventure in itself.
5. Maori guided walks
Once a tiny seed, Auckland has grown into an enormous thriving city which is due in no small part to its highly advantageous geography. Centuries before the European settler decided 'this looks like a good spot for a settlement' the Maori had identified the positioning as an ideal one and fought between tribes to make it their own.
To take a peek back through time and the history of Maori settlement here you can sign up for a range of walking and cultural tours which will take you on a visit to all the historically significant places. With your Ngati Whatua tribe member as a guide, you will learn about the native plants and their traditional uses while listening to stories handed down through the centuries.
And should you still feel in need of a cultural fix after this, head to the Auckland Museum which has some wonderful Maori exhibits both permanent and temporary.
6. Mission Bay
We know that finding the word 'lovely' in the same sentence as the words 'city beach' are something of a planetary rarity but Auckland – like so much of NZ – does things differently. Head east from the city's CBD and sooner rather than later you will hit the beautiful sandy beach and safe swimming waters of Mission Bay.
Quite what you do with your seaside time while you are here is up to you; the energetically inclined can rent roller-blades, a kayak or a bike or simply scale Bastion Point at the bay's west end to be rewarded with sparkling ocean views of the Hauraki Gulf.
If expending a little less energy is more your idea of fun you can plonk yourself at absolute beach-front for a bite to eat, an ice-cold beer or a coffee – incidentally the only place in Auckland where that's possible.
Image Credit: Spookers
7. Spookers
What better venue for somewhere designed to give you the heebie-jeebies than an old psychiatric hospital. Spookers is crazily popular which means there must be many people out there who get a kick from being scared witless and coming face-to-face in real life with the stuff of nightmares.
Here's how it works – as some-one trying to escape from zombies/demons/lunatics with chain-saws, you scuttle/crouch/hide/run for your life through themed rooms and outside sets which are full of terror-inducing props and live actors whose job it is to make you scream.
Most of the sets are strictly 'adults only' and incredibly well done so you might want to give this one a miss if you suffer from a weak heart or bladder. And so to sum Spookers up - and written so eloquently by a reviewer - "totally armpit drenching, heart rate spiking, insane giggling and screaming good fun".
8. Whale and dolphin safaris
As with pretty beaches, high quality wildlife watching isn't something you typically associate with urban masses but as we have said before – this is New Zealand – expect the unexpected. Auckland's eastern coastal extremity is made by the Hauraki Marine Park which just happens to be one of the planet's most biologically diverse and is simply heaving with abundant wildlife.
In excess of 22 species of cetaceans – whales and dolphins – live or pass through these waters while seals, penguins and other sea-birds are also abundant. Spotting whales and dolphins during a trip out from the harbour is almost a given. So much so in fact that all of the cruise operators offer free trip policies if nothing is seen.
9. Backpacker bar-crawl
If it's time to get your partying fix, you might want to trot along to the Fat Camel Bar in Fort Street where the Thursday night Frenzi Bar Crawl kicks off its evening of revelry. Along with around 100 other backpackers who amass for some night-time fun, you will stumble and rabble-rouse you way around a hand-picked selection of the most happening Auckland bars. For a small layout you get a few drinks and the opportunity of making an utter fool of yourself – or grabbing a prize – with some party games thrown into the mix.
Image Credit: Todd Eyre
10. The Gulf Islands
More than 50 spectacularly beautiful islands lie in the 1.2 million hectares of emerald ocean known as the Hauraki Gulf and its Marine Park which lies to the east of Auckland. The natural jewel in Auckland's crown, these islands are easy ferry rides away from the sprawling metropolis but might almost be another planet. Idyllic deserted beaches are a standard across all the islands as are watchwords such as escape, tranquillity and water-sport heaven.
Take your pick from swimming, snorkelling, diving, kayaking stand-up paddle boarding, surfing and sailing in the sports category or fish for your lunch, sample local wine, explore cave systems, immerse yourself in Maori legend or enjoy 101 other possibilities.
Each island is a little different - highest populated Waiheke Island for example is vineyard-rich and comes complete with the opportunity for a zip-line adventure or a wander round WWII relics. Hikers favourite Motutapu and richly pohutakawa-forested Rangitoto are a double delight as these two islands are joined by a causeway. And the list goes on. Come for a day and be beguiled to stay for much longer.
Image Credit: Todd Eyre
11. Outdoor cinema
Popular with backpackers – not least of all because it is free – is the open-air Silo Cinema in Silo Park. This summertime-only event takes place on Friday and Saturday evenings which means you can take in the lively Friday/Saturday markets here too which have a range of cheap, backpacker budget eats.
And as if all that isn't enough fun in one place, Silo Park also plays host to a range of free live music events every Saturday.
12. Auckland suburbs
Auckland has a plethora of suburbs radiating out in every direction from its central hub. They come in all shapes and sizes and many of them hide all kinds of attractions and little gems that are worth the effort to get there.
Beaches, wilderness and walks are relatively easy to find with a jaunt to such places as waterfall-rich Waitakere, Rodney or the North Shore, while shoppers will find their retail heaven in Newmarket, Ponsonby and Kingsland or in the city's largest shopping complex in Manukau.
This latter is also home to the Botanic Gardens while a hike up Mt Eden's extinct volcanic cone to take in the awesome city views is almost compulsory. Cute bars, quirky cafes and diverse eateries are dotted liberally around the suburbs so go for an explore and see what you can find.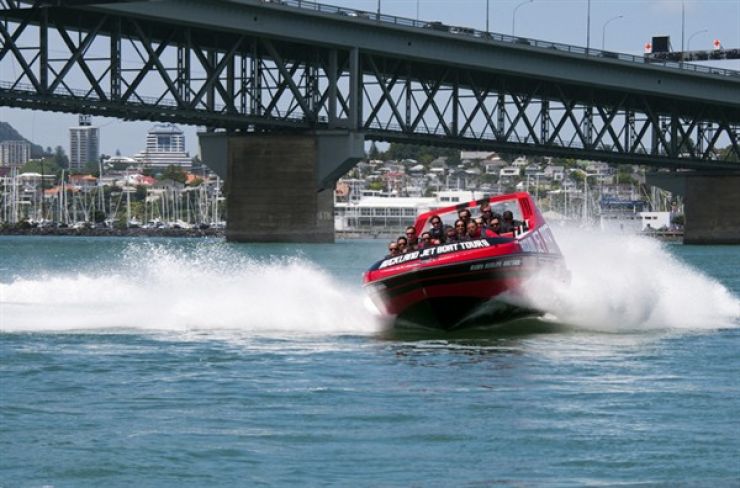 Image Credit: Auckland Jet Boat Tours
13. Auckland Jet Boat Tours
Auckland Jet Boat Tours and their 'supreme scream machine' - very sweetly called 'Ruby Red Lips' is anything but as she propels you across Auckland harbour at up to 90kph! In between the break neck speed turns (in which you are sure to get a little or a lot wet!) you will see the amazing skyline of Auckland and its harbour. You may also get to wait under the harbour bridge and cheer on some poor soul as they do a harbour bungy. Wherever you get to on your 25min water adventure you will have some great commentary from the very experienced driver about local landmarks and the history of the area - so whether you go for the thrill ride or a the sightseeing - you'll have an amazing time either way.