With an amazing 15,000 kilometres of coastline packed with breaks, reefs, waves and points, it's no surprise New Zealand has become a world-class surfing destination. There are hundreds of surf hire shops, surf schools and camps whether you just want to brush up on your skills or are a complete newbie. And if that is not our cup of tea then why not take in the amazing coastline and river views on a Stand Up Paddleboard - be warned this is harder than it looks but awesome fun.
4 Surfing & SUP Companies in NZ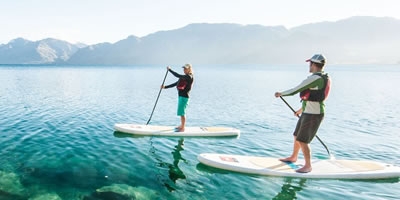 Guided tours from $139pp
Paddle Wanaka (Wanaka)
Guided SUP (Stand Up Paddleboard) tours on the beautiful Lake Wanaka & the Clutha River. Tours can be customised to suit all levels & abilities, no experience necessary. Bookings required.
SUP River Taster $139pp or Lower Pro $199pp
SUP Lake $179pp - escape the crowds. Location can be adapted to suit ability
Walking On Water Surf School
Located in Gisborne you'll be taught to surf by fully qualified instructors who have a genuine passion for teaching & surfing.
UP Surf Coaching Raglan
Take our popular 3 or 5 day surfing course in Raglan. Ideal beginner / intermediate waves and learn as fast as possible.
Aotearoa Surf School
Aotearoa Surf is NZ's #1 surf school operating out of the most beautiful beaches along the East Coast just 60 minutes North of Auckland's CBD.