In most countries jumping out of a plane sounds like one of the craziest things you can do but in NZ its just another day at the office! To do tandem skydiving you don't need any training or experience as they latch you onto an expert and you jump out of the plane together. Make sue its on your list for NZ and get a video and photos so show to all your mates back home!
10 Skydiving & Skyjump Companies in NZ
Only $339 for 15,000ft
Taupo Tandem Skydiving (Taupo)
Free limo pick up & drop off
Skydive Taupo (Taupo)
Most scenic jump location
Skydive Bay Of Islands (Bay of Islands)
Skydive Wanaka
Innovative and progressive, we're dedicated to delivering a unique tandem skydive experience, with high standards of safety, comfort and personal service.
Tauranga Tandem Skydiving
This small personal dropzone is able to offer impressive views ranging from White Island through to Mount Ruapehu.
Skydive Fox Glacier
We are the original glacier skydivers. Since 1997 we have taken over 30,000 very happy customers on the ride of a lifetime.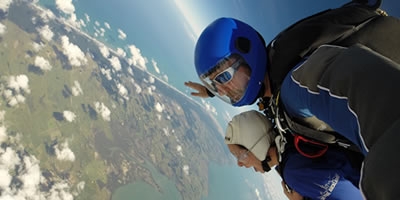 Skydive Auckland
Experience the highest skydive in the North Island at 16,500ft with 75 seconds of freefall over amazing views. Free transport available.
Skyjump And Skywalk
Plummet 192 metres off the Sky Tower at 85 km an hour! Completely safe and utterly unforgettable.