With thousands of kilometres of coastline and waterways to explore, kayaking really is one of the best ways to do it. There are loads of great kayak operators who run guided tours or simply hire the kayaks for you to create your own adventure. While a little fitness would not go a miss, kayaking is really easy to pick up so perfect for beginners.
3 Kayaking Companies in NZ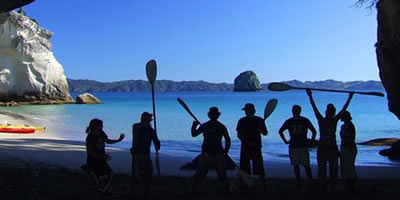 Rated as one of the best sea kayaking trips in NZ
Cathedral Cove Sea Kayaking (Coromandel)
The only kayaking company licensed to land at Cathedral Cove. We run award winning sea kayak tours in small groups which are led by experienced guides and are suitable for all abilities.
Paddle through sea caves & interact with local marine life.
Land at Cathedral Cove & enjoy our world famous cappuccinos & hot chocolates!
Abel Tasman Kayaks Freedom Rentals
Do it your own way and hire a kayak! With free car parking and hot showers this is a perfect option for adventure seekers seeking flexibility.